Order Management System
If you're tired of online order management problems like missing customer orders or spending too much time on monitoring each of your sales channels, then you should try out ZORT.  Our online order management software can make selling easy and efficient. Most importantly, our online order management can greatly  save your time and cost with these following features: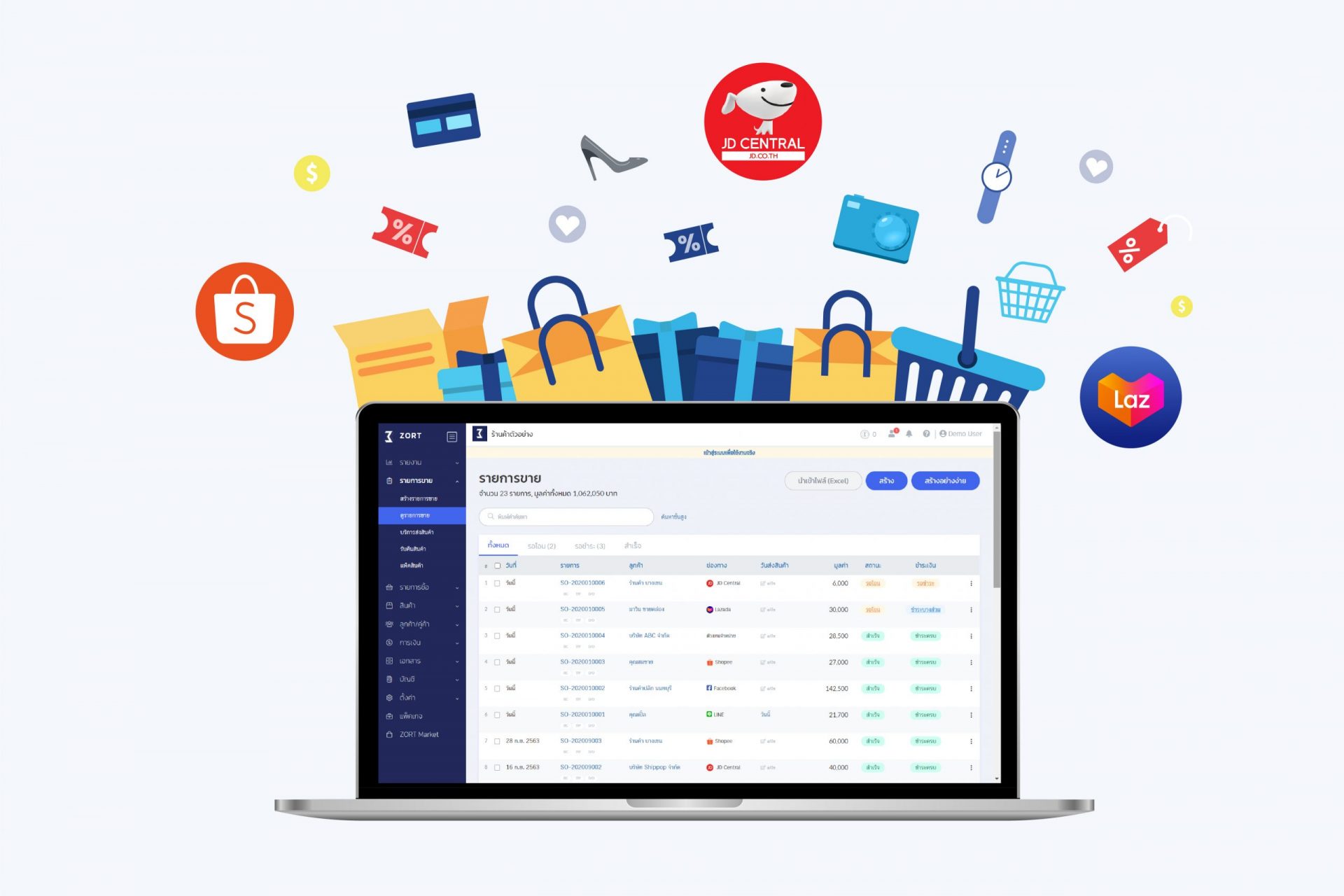 Enhance store management performance
Manage sales orders across all sales channels from one single place. Whether it be online or offline stores, ZORT can save a lot of your working time since you no longer need to monitor each channel one by one.  Moreover, ZORT order management system can also solve the problem of missing orders caused by manual work. 
Integrate orders from all sales channels
Easily manage online orders from your website or social commerce channels such as

Facebook and LINE, or even Marketplace channels like

Lazada,  Shopee, and JD Central.  Integrate all your sales orders and manage them on ZORT. No need to waste your time checking each platform. Make your store more organized than ever. 
Synchronize data between your front and back office
Manage offline orders with our order management system features that allow synchronize data between the front and back office, so you can check the remaining stock right away, no matter if it is an offline store. You can also get instant insight on your best-selling items. 
Create bills and documents
Take care of your financial work more easily with  our simple online order management software that allows you to create financial bills and important documents used in your business. For examples, bills, receipts, or even tax invoices. Streamline your work by seamlessly send necessary financial data to your preferred accounting  office.
Track the order status from the beginning to the end
 of process. 
With one single click, you can see all the status of all sales orders from the beginning to the end. Monitor the status from the moment you receive the order from each sales channel, create the quotation, filing the bill/receipt/tax invoice, up until select the shipping service. 
Simple interface and easy to use
By using our system to help manage your sales orders, you can save a great deal of time since you no longer need to input data manually. In addition, it can save cost because you don't need to hire more personnel to take care of sales orders from each platform. Also, if your store can manage customers' orders fast without any mistakes, it will create a good reputation for your online business, and therefore sustainably attract more customers.